Matching Products For:
The bulletproof vest model Odin NIJ-3A (04) GRAN is the standard model that gestation period is in many police and security throughout Europe. The bullet proof and stab proof vest Odin with two...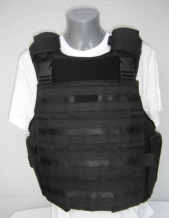 The 75 Omega Tactical Modular Vest NIJ-3A(04) is a patented carrier system which was developed on the basis of the experience gained by German soldiers in Afghanistan. This vest has an exceptional...